Back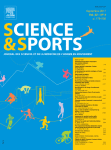 April 2017
Relationship between 25(OH)D levels and skeletal muscle stiffness in athletes – Preliminary study
Authors: A. Ksiazek, A. Kawczynski, M. Slowinska-Lisowska
Affiliations: Department of the Biological and Motor Basis of Sport, University School of Physical Education, Wroclaw, Poland
Journal: Science & Sports - September 2017, Volume 32, Issue 4, Pages 229-234 (DOI: 10.1016/j.scispo.2017.03.002)
Objectives
The aim of our study was to assess the relationship between 25(OH)D levels and muscle stiffness and elasticity in well-trained football players.
Material and methods
We enrolled 31 Polish first league football players. The mean: age was 26.3 ± 5.9 years, height was 183.0 ± 7.6 cm and body mass was 78.4 ± 6.9 kg, career duration was 16.7 ± 5.2 years. Serum levels of 25(OH)D were measured by electrochemiluminescence (ECLIA). Muscle stiffness and elasticity was tested with MyotonPRO device.
Results
Our study showed decreased serum 25(OH)D levels in 68% of the professional football players. The results also demonstrated a slight statistically significant correlation between vitamin D levels and muscle stiffness in points 12, 22 (located internal hamstrings and gastrocnemius) and elasticity in point 4 (located vastus lateralis). We have found significant positive correlation between muscle stiffness and CK activity.
Back