Back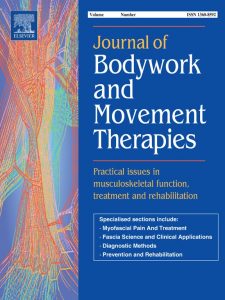 May 2021
Immediate Decrease of Muscle Biomechanical Stiffness following Dry Needling in Asymptomatic Participants
Authors: Joseph P.Kelly PT, PhD, 1, Shane L.Koppenhaver PT, PhD, 2, Lori A.Michener PT, ATC, PhD, 3, Morey J. Kolber PT, PhD, 4, Joshua A.Cleland PT, PhD 5
Affiliations:
Bradley University, Peoria, IL, US
Baylor University, Waco, TX, US & South College, Knoxville TN, US
Division of Biokinesiology and Physical Therapy, University of Southern California, Los Angeles, CA, US
Nova Southeastern University, Fort Lauderdale, Florida, US
Franklin Pierce University, Manchester, New Hampshire, US
Journal: Journal of Bodywork and Movement Therapies - April 2021, Volume 27, Pages 605 - 611 (DOI: 10.1016/j.jbmt.2021.04.014)
Background: Biomechanical muscle stiffness has been linked to musculoskeletal disorders. Assessing changes in muscle stiffness following DN may help elucidate a physiologic mechanism of DN. This study characterizes the effects of dry needling (DN) to the infraspinatus, erector spinae, and gastrocnemius muscles on biomechanical muscle stiffness.
Method: 60 healthy participants were randomized into infraspinatus, erector spinae, or gastrocnemius groups. One session of DN was applied to the muscle in standardized location. Stiffness was assessed using a MyotonPRO at baseline, immediately post DN, and 24 hours later. The presence of a localized twitch response (LTR) during DN was used to subgroup participants.
Results: A statistically significant decrease in stiffness was observed in the gastrocnemius, the LTR gastrocnemius, and the LTR erector spinae group immediately following DN treatment. However, stiffness increased after 24 hours. No significant change was found in the infraspinatus group.
Conclusions: DN may cause an immediate, yet transitory change in local muscle stiffness. It is unknown whether these effects are present in a symptomatic population or related to improvements in clinical outcomes. Future studies are necessary to determine if a decrease in biomechanical stiffness is related to improvement in symptomatic individuals.
Keywords: Dry needling, myofascial trigger point, muscle stiffness
The direct relationship of increased muscle stiffness and injury is not well established and poorly understood. The increased stiffness of MTrPs could impact the performance of the muscle and may contribute to localized trauma. DN may provide immediate, but temporary decrease in stiffness. Clinical observation of LTR combined with measurement of biomechanical stiffness may be a beneficial biomarker for successful DN outcomes, but requires further investigation.
Back