Back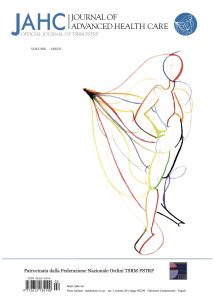 November 2020
Adaptive Neuromodulation in the Treatment of Spasticity
Authors: Barassi Giovanni 1, Giannuzzo Giuseppe 2, De Santis Romano 3, Dragonetti Antonella 3
Affiliations:
PhD, Coordinator of the Physiotherapy Center for Rehabilitation and Reeducation (Ce.Fi.R.R.) venue "G. d'Annunzio University" Chieti-Pescara, Italy; CIT project Coordinator (Integrated Thermal Cares) of Medical Thermal Centre, Castelnuovo della Daunia, Italy
BSc, Water Rehabilitation Laboratory: Ce.Fi.R.R. venue "G. d'Annuznio University" Chieti-Pescara, Italy
BSc, Specialist Electroneurofeedback (ENF) Therapy – Frosinone, Italy
Journal: Journal of Advanced Health Care - October 2020, Volume 2, Online Issue (DOI: 10.36017/jahc2010-003)
This research has the purpose to evaluate the immediate effects on spasticity of lower limbs of a single session of two different therapeutic approaches in patients affected by cerebral palsy.
A total of 30 patients, with an age between and 10-40 years old and affected by cerebral palsy associated to spastic para/tetra paresis, were recruited and equally and randomly divided into 3 groups: group A has was treated with hydrokinesitherapy (HKT). Group B was treated with adaptive electro neuromodulation (ENM). Group C underwent a sham approach respecting the operative procedure of Group B with the device not operating.
All patients were evaluated, before (T0) and after (T1) the single session of treatment, through myometric evaluation of muscular rheological parameters.
The analysis of results underlined that both HKT and ENM resulted effective in reducing muscular hypertonia associated with spasticity, while in Group C no significant results were detected.
We can affirm that both ENM and HKT approach can be good alternatives for the treatment of spasticity in patients affected by cerebral palsy.
Keywords: Hydrotherapy, Electrotherapy, Cerebral Palsy, Physiotherapy, Rehabilitation
Results of this study confirmed the efficacy of HKT and highlighted the potential utility of ENM for the management of spasticity related to cerebral palsy. It will be interesting, for the future, to continue exploring the therapeutic possibilities of the ENM application in the field of neurologic pathologies, especially those like cerebral palsy, possibly setting new studies with a longer duration, middle and long term follow-ups, wider samples, deeper evaluations and other more strict setting criteria.
Back